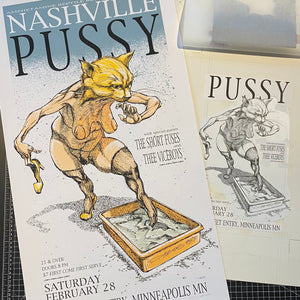 Nashville Pussy Poster and Blackline
This image features a naked woman dipping her toe into the kitty liter like she's testing the water temperature of a swimming pool. Her head is the pussy cat. Along with this poster comes the actual black line paste up on cardboard for the film shot to use in silkscreening.
Poster and the blackline the poster was created from.  Much of this blackline has original drawings.