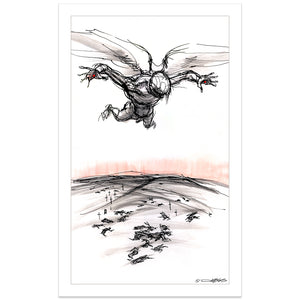 Aftermath by Derek Hess
Aftermath is a haunting print from a pen and ink / acrylic piece. The angel surveys the aftermath of a battle, bodies strewn across a grave yard. The angel experiences sorrow for the loss of life, flying away because there's nothing he can do. We are sometimes our own worse enemy.
Printed on 270 gsm, acid free fine art matte paper.