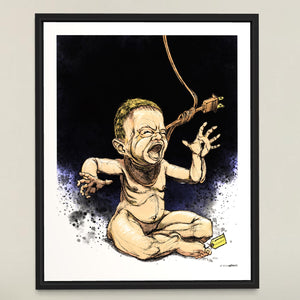 An Extension of Life
Introducing the legacy edition art print: An Extension of Life, featuring the infamous baby from my Mule/Barkmarket poster. In my rebellious youth, I aimed to create a provocative image that would command attention and promote the show—resulting in a baby with an extension cord around its neck. Mission accomplished!  A bold and thought-provoking piece that stands as a testament to the boundary-pushing spirit of the past, encapsulating an era where art dared to be daring. 
Printed on 270gsm, acid free fine art matte paper.

T-shirt and print available - HERE