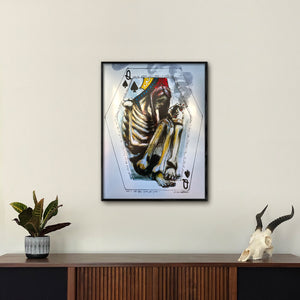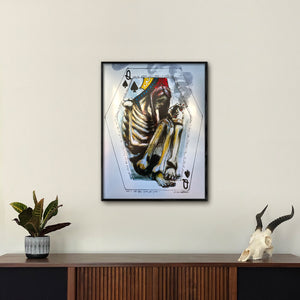 Until The Very End of You
Until The Very End of You - signed and numbered edition of 100. Printed on metallic silver archival paper.  17" x 23".
Until the end of you is a line from the Nine Inch Nails song "In This Together". That was just an inspiration line to do this piece, it doesn't describe the content of the song. I often get inspired by a line in a song to launch into a piece. This piece has a poem written around it, I don't remember where it came from, but it reads "Death must be so beautiful, to lay in the soft brown earth with the grass waving above one's head and listen to the silence, to have no yesterday and no tomorrow, to forget time, to forgive life, to be at peace." This piece is about the death of a bad relationship to put it nicely, it's about things coming to the end, but you can read into it what you like. I feel there's more to it that can't be written about, things I can't put my finger on. It's open to interpretation.