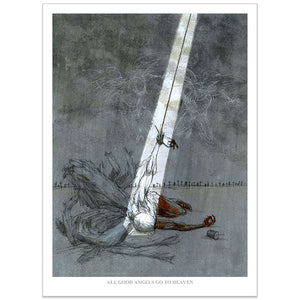 All Good Angels Go To Heaven
The angel lays down in a graveyard, worn out from life. His wings are damaged to prevent him from flying. There is hope, his arm is tried to heaven, a strong connection. The rope comes down from the light thats above. There's two very lightly drawn silver angels along the sides of the rope to help maintain connection. 
Off-set on
100# un-coated archival acid-free matte stock, 22 x 28, Signed and numbered edition of 300.