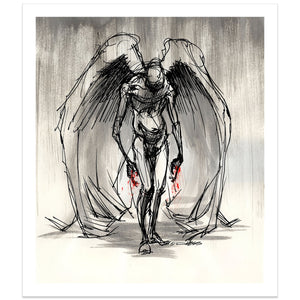 Expelled by Derek Hess
A print created from a pen and ink / acrylic piece. This angel has been expelled from heaven and forced to walk on earth with broken wings. He also has wounded hands that show no signs of healing. Expelled can be found in the book "Black, White, and Red All Over" where you can find over 100 similar pieces.
Printed on 270 gsm, acid free fine art matte paper. 19 x 22".