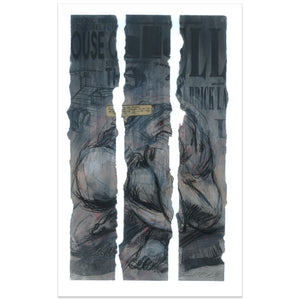 My Life by Derek Hess
This print was created from a mixed media piece that features three fliers for shows I did at the Euclid Tavern, House Of Lager Sizes, Jale, and Shellac. The figure is drawn with grease pencils and acrylic was used to create tones. The thought balloon comes from a 1960's comic book clipping...not sure what comic book. Despair was probably the feeling i was going for when I created this piece. 
Printed on 270 gsm, acid free fine art matte paper. 14 x 22".