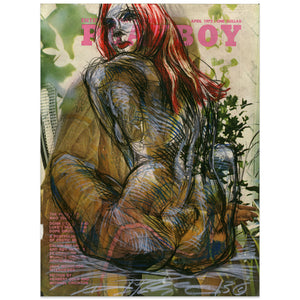 April 1972
This piece was done on the playboy cover for April 1972. I did a whole series for Playboy covers drawn with grease pencils. I chose the covers by the colors and how they might work with the drawing. I thought the colors of the magazine cover and the colors of the grease pencils complemented each other real nicely. This and along with over 100 pieces like this can be found in this gallery and in the book gallery, it's called
"He Ain't No Vargas". 
Printed on 270 gsm, acid free fine art matte paper.