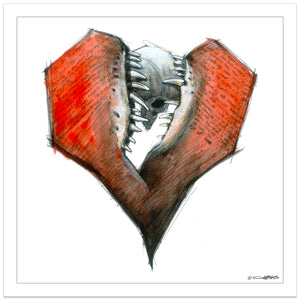 Full of Love
In this print i did the shape into that of a heart that has been worked into. I drew the teeth from a dinosaur's jaws from a carnivore at the Cleveland Museum of Natural History which is one of my favorite places to draw. In it's jaws is a human skull and the text are the lyrics of the song "Floater" by one of my all time favorite bands "
Every Time I Die" out of Buffalo. I really love this piece.
Printed on 270 gsm, acid free fine art matte paper.